Today I saw a few links pop-up on Facebook for a product called 'Snow Beacon' which is an avalanche transmitter.
Some clicking around the website shows that it is a transmitter only – no search mode – running on the internationally recognised 457KHz frequency.
The tag line on the website of the product is 'Affordable Mountain Safety' – this of course is very difficult to argue with, but after clicking around on the website I came away feeling quite conflicted. Innovation is scarce in Australia and should be strongly encouraged, so I am wary of writing this article, but my feelings regarding mountain safety go a lot further.
Many experienced skiers have had their lives touched one way or another by avalanches. I've unfortunately had to farewell two good friends to avalanches. Bernd Greber and Shaun Kratzer were both inspirations to myself and my friends, and many tears were shed at the time of their loss. The grief that was experienced by their families and friends was awful and I applaud all efforts that are taken to prevent these situations affecting others
As readers of this blog will know, backcountry skiing, ski touring and now ski mountaineering are becoming a large part of my overseas exploits. To experience what I love best in its truest form requires either a helicopter, or if funds don't allow, skiing beyond the ropes and controls of Ski Patrols, either as 'slackcountry' or full backcountry. Either way once you are outside the areas protected by ski patrol you are completely on your own and 100% at the mercy of the elements.
Due to what I perceive to be my own shortcomings in my knowledge of avalanches & snow safety in general we have often skied with a guide off-piste. Not only has this allowed us access to some amazing territory but we have also used the time to increase our knowledge by discussing the conditions and also the decision making processes. Coupling this field experience with avalanche seminars and reading numerous books on the matter has led to a basic level of knowledge of the subject that I intend to progress.
As a result of this I can only suggest that the Snow Beacon transmitter covers one facet of what's truly required to be safe in the backcountry. It is commonly accepted that what's required to ski safely in avalanche terrain is a full-featured Avalanche beacon that both transmits and receives, plus a shovel and probe, but most importantly KNOWLEDGE. Simply having a transmitting device is only a small part of this requirement. Lack of knowledge can be overcome by engaging a qualified guide but shortcomings in the equipment are only putting yourself and your partners at risk.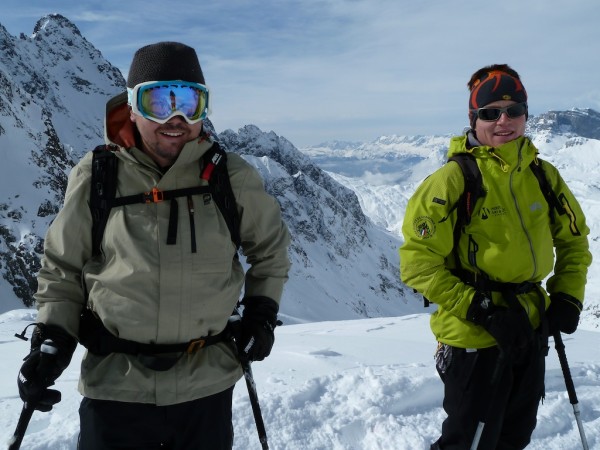 Naturally the best tactic against avalanches is avoidance. I have also read recently that professional avalanche education at the consumer level is less about the technical details of the snowpack and more focusing on the human factors that compel skiers to make poor decisions even when the warning signs are present and staring them in the face.
What my concern is with this device is the message that it sends – it is not part of a comprehensive avalanche mitigation strategy but it's very likely that users will pop it in their pocket and feel protected.
Let me know in the comments below what your feelings are on this device and if you believe it proves an appropriate degree of protection against avalanches.
Would you go skiing if you knew your partner didn't have the gear to find you and dig you out?
Avalanche courses are being held in NSW and Victoria this year, more details here: http://www.avalancheschoolhakuba.com/avalanche-courses-australia – my wife and I are hoping to attend one of the Hotham courses.
More information on the Snow Beacon is available on their website and some 'spirited' discussion is popping up on their Facebook page.
Don't forget to Like aussieskier.com on Facebook and Follow us on Twitter
[products ids="6730, 6723, 6725, 6853″]